PRO Zebra LP2844 Thermal Shipping Label Printer
Email to a friend
Bulk Pricing Discounts
* Price adjustments will be reflected in the cart.
| QTY | 2 | 5 | 10 | 20 |
| --- | --- | --- | --- | --- |
| % | 5% | 7% | 9% | 12% |
Product Description
Pro Package Includes: Zebra LP2844 Printer, 4-Pack 250 Labels/Roll Paper, AC Adapter, USB Cord, Driver, Installation Guide, Installation Support, 5-Year Extended Warranty
The Zebra LP2844 is a powerful thermal label printer in a small desktop-size. It is ideal for printing barcode & shipping labels where space-saving is needed with a 4" label width. If you are looking for an affordable desktop thermal label printer and don't need advanced or fancy features, the Zebra LP2844 thermal label printer is the perfect choice. The LP 2844 is an industry standard workhorse printer. It will reliably print 30-100+ labels per day with no issues and will be easy to maintain, keeping your business operating smoothly.
The Zebra 2844 thermal label printer prints without toner or ink. This is the main benefit of using this kind of printer as opposed to a laser or inkjet printer. Since there is no ink or toner used, the LP-2844 uses heat to activate the paper and display the barcode and images. This heat transfer printing is called direct thermal printing.
The Zebra printer LP2844 is a high speed shipping label printer that prints up to 4 inch/second (4 IPS), which means it prints one 4×6" shipping label in 1.6 seconds. It is made with impact-resistant ABS plastic and is made to take many years of consistent label printing. This is one of the reason this is the best shipping label printer for small business.
The LP-2844 Zebra printer has an improved printhead that provides 203DPI resolution with enhanced print quality delivering optimal performance, making this printer ideal for printing  shipping labels, barcode labels, product labels, & inventory labels for all purposes. We also have the option for you to upgrade to adjustable rails, which allow you to change the width of the label size. This allows you to use a different Zebra LP-2844 label size and then the LP2844 thermal label printer is able to print a minimum of 0.75″ and a maximum of 4.25″ wide. This reason is one example of why our customers say the LP2844 is their choice as the best shipping label printer for Shopify.
The Zebra LP2844 printer seamlessly integrates with your existing desktop or shipping workstation to easily make shipping and barcode thermal labels.  Connections that are included with the LP-2844 thermal printer are: parallel, USB, with an option to upgrade to Network or Wifi. We sell to lots of eBay Powersellers who tell us that this is the best shipping label printer for eBay. It is compatible with all of the programs that use Zebra's programming languages.
Multiple Paper-Type Support
The Zebra LP 2844 printer supports thermal label paper on a roll that is contained inside the unit. It will also work with the other popular choice of labels that comes in fanfold paper which is inserted through a slot in the back of the label printer. This feature alone, makes Amazon FBA sellers tell us the LP2844 is the best Amazon FBA label printer. The LP-2844 supports many varieties of thermal label paper, we always recommend our brand of labels because we know they are high-quality and don't give off residue which will gunk up your machine over time. Your machine will be tested and confirmed with our paper and we guarantee it works properly… we even include the test roll with your purchase so you can try them out and print a couple real and test labels!
As an added bonus, the LP2844 printer is compatible with the majority of FREE shipping labels provided by: UPS, FedEx and others in Zebra LP 2844 label size: 4"x6", 4"x8" , and more.
Easily Integrates With Shipping Applications:
This Zebra label printer can print shipping labels to: ShipStation, EasyPost, ShipWorks, ShipWire, ShippingEasy, Shippo, XPSship, Stamps.com, Endicia, UPS World Ship, UPS, USPS, FedEx,  DHL, and more.
Seamlessly Connect To The Most Popular Marketplaces:
These Zebra thermal label printers work with the largest and most common online selling marketplaces, such as: eBay, Amazon FBA, PayPal, Walmart, Shopify, Etsy, Poshmark and others!
2-Year Warranty Included!
We have over 25,000 satisfied, loyal customers, have been in business over 20 years, and expect to serve the Zebra printer market for at-least another 20. Being the online leader in Zebra thermal printers allows us to offer you a 5-YEAR WARRANTY!
Installation Support and Setup
We provide FREE 5-star US-based technical setup support by phone, support ticket system, and remote-desktop installation control.
If you have any trouble downloading and installing the Zebra LP2844 driver or linking your printer with the desktop computer, please contact us and we will promptly and friendly assist you in getting your Zebra printer working correctly with your computer. Almost all concerns can generally be fixed in less than 15 minutes, so if you are having trouble, we will control your computer for you and do everything, worry-free! We are committed to making sure your label printer will work for you, so included with your purchase of the LP2844 is installation support that will ensure your desktop computer integrates and talks to the printer, printing a Zebra test label, 100% guaranteed!
Call us anytime Monday-Friday 10-6 (CST) on 312-416-1518 with any inquiries regarding printer specifications, integrations, or product questions.
Once your thermal label printer arrives safely, if you have any issues, please click this link to download the Zebra LP 2844 driver and then go to Free Installation Support to schedule your FREE installation with an expert Zebra label printer support technician.
Free Thermal Label Making Software
The Zebra LP 2844 shipping label printer work with a free label making software that contains the most frequently used label-design print features, including: full design capabilities for text, graphics barcodes, and most serializing capabilities. This feature is why this is one of the best thermal printer for USPS labels & UPS labels.
Shipping Compatibility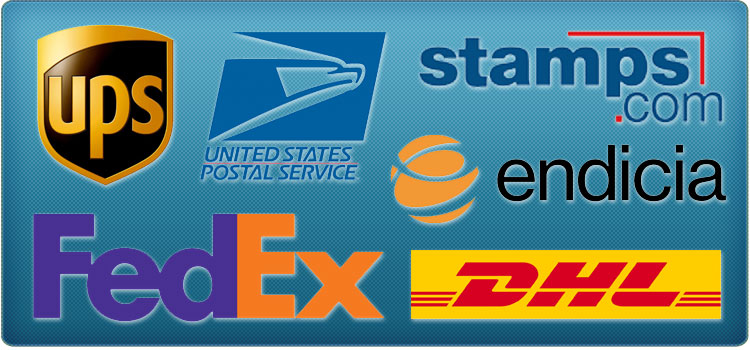 Zebra LP2844 Printer Specifications
Product Condition: Tested and Refurbished
Zebra LP-2844 Thermal Label Printer Includes: Label Printer, AC Power Cord, USB Cord, and 1 Roll of Thermal Label Printer Paper
Windows Drivers: 95, 98, Me, NT4.0, NT2000, XP, Vista, Windows 7, 8, 10, MAC OS X.