Estimated Delivery Times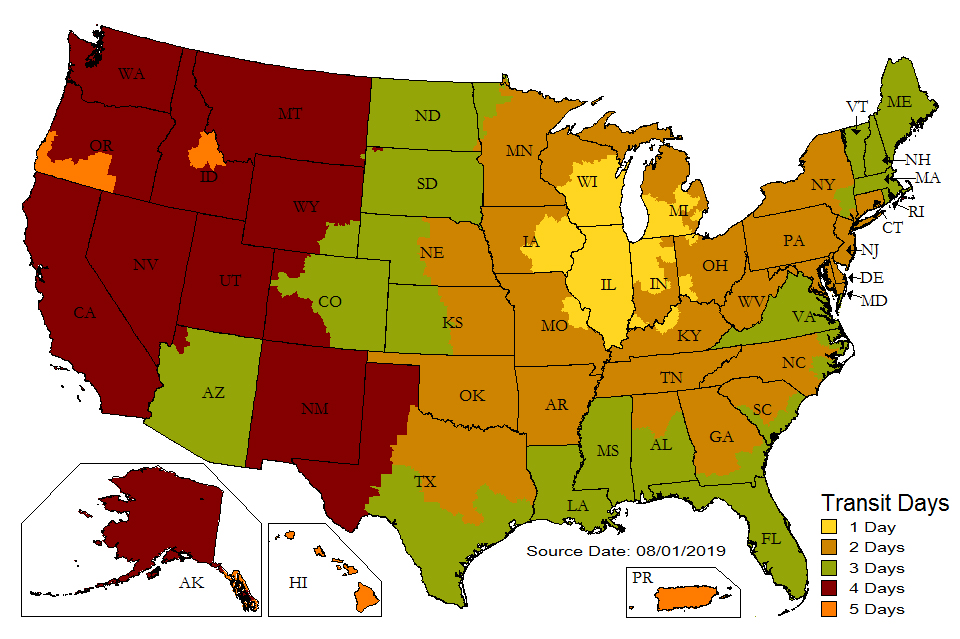 SHIPPING POLICY
We strive to provide the fastest shipping possible. All orders ship on business days by 3PM (Central Time). Please refer to the countdown timer on our website, or in your shopping cart to see if you have time to place your order for same day shipment. Orders ship via FEDEX Ground shipping within the lower 48 contiguous United States. We reserve the right to choose the best method of shipment on all orders. (Some exclusions apply). When available, Free Shipping is only available to the 48 contiguous States.
FREIGHT LINE "LTL" (less than truckload) SHIPPING Oversized/Heavy Items: Some of our larger, bulky and heavier items are delivered via Oversized Delivery or Standard Truck Delivery. Additional shipping charges will apply based on the weight/size of the item. These charges are applied in addition to standard shipping and handling charges for each item.
Extremely heavy orders or items that cannot ship via UPS Ground due to their weight and/or size ship via LTL shipping. Please allow extra days in transit for delivery based on the availability of the carriers.
If an order will be delivered via LTL freight line, we may contact you to arrange a window of time for delivery. Orders shipped via LTL freight line to a residential address are strictly delivered curbside unless otherwise specified by customer (example: additional charges may be required for inside delivery). Our shipping LTL fees do not include any delivery service beyond curbside – customers are responsible for any extra charges incurred for any extra services. In addition, customers are responsible for additional charges incurred due to missed delivery appointments or re-deliveries.
Hazardous and Other Items: Glassware and Hazmat items may also incur delivery surcharges because of the additional handling and processing time to ship these items. Due to federal and state shipping regulations, some items cannot be shipped via plane. These items can only be shipped using the UPS Standard Ground delivery service.
DELIVERY SURCHARGES
Some orders may require additional shipping charges (surcharges) based on size or delivery area. Please note, if you are interested in purchasing multiple quantities of an item with a surcharge, please contact our customer service department, we will try to adjust the charges on multiple quantity orders.
SHIPPING LOCATIONS
All orders ship from the closest of our national distribution warehouses. Should the closest warehouse not have the item or items you ordered in stock, we will ship from the next closest warehouse. This may result in you receiving your order at different times if you ordered more than 1 item. Please note that we are not set-up for in-warehouse pick-ups except for our main distribution center in Chicago, IL. ThermalPrinterOutlet.com is not responsible for products shipped outside the United States.
ThermalPrinterOutlet.com is a Blue Edge Technology, LLC Corporate Office and Distribution Center5750 W Bloomingdale Unit 1
Chicago, IL 60639
SHIPPING METHOD OPTIONS
In order to offer the most economical shipping rates and most reliable service, we proudly ship via FEDEX. All items are shipped via FEDEX. If you request a different method, please contact us prior to ordering.
FEDEX Ground Service
Delivery Times
1-5 business days within 48 contiguous states
Service Days
Monday – Friday.
Delivery Area
United States of America including Alaska and Hawaii. All international shipments please contact our International
Sales department at [email protected] for freight information to your destination.
MINIMUM ORDER
There is no minimum order size at ThermalPrinterOutlet.com
ORDER TRACKING
Please login to your account to track packages. If this does not provide accurate information please email our Customer Support team at [email protected]